As a young man in high school and college, I stopped going hunting with my dad because I was just too busy, I got married and had kids. Classic adult excuses, but I just didn't think about hunting until one fall day in 2011. Visiting with my Dad one day, out of the blue he asked if I was interested in going elk hunting with him that year. I had never been elk hunting and honestly was surprised and excited about his invitation.
It made me reminisce of my youth. Suddenly I was reliving fond memories of waking with my dad at 4 am, eating cup-o-noodles for breakfast, and heading out onto the rolling grass hillsides along the breaks of the Snake River. We never failed to spook at least one flock of chucker's in the pitch black, scaring us out of our boots every time! Every year we would bring home a deer or two between the three of us. It was amazing and far from forgettable!
This trip was different. It felt like a passing of the torch. My dad took me to an area where he had first hunted elk with his dad. He showed me where they used to ride horses in and camp because there were no roads to access the area. Dad knew every nook and cranny of the entire area: every stream, every trail, every meadow. It was like I was a kid again and looking at my dad through a child's eyes. I am so thankful for the opportunity to share this experience with him once again.
As a boy, we often do not realize the significance of those moments or understand our father's desire to pass on their passions, life experiences and knowledge. It seems, I never fully understood what it meant to my father until I became a dad and looked into the eyes of my own son. Now I understand, a boy needs to be guided, mentored and provided an adventure to live out.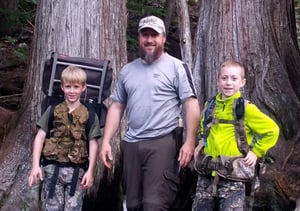 That's where Trail Life USA came in. Trail Life provided structured time with my boys and gave me an opportunity to teach and mentor not only my boys but other boys in the Troop that need that same guidance and mentoring. To me, Trail Life is the perfect fit because my boys and I love the outdoors. We enjoy camping, hiking, boating, hunting, and all kinds of outdoor activities. What was most important to me is that we can enjoy these activities with fellow Christians and grow together.
What I didn't expect when I joined was how much I would learn and grow from the other men in the Troop. As much as my boys have grown in the program, in spending time with other men, and preparing for meetings with the boys, I have grown more. I have been encouraged in my faith and grown closer to all my children, my wonderful wife, and to God.
As I look back. I cherish the time spent in the wilderness with my dad. Since the first invitation in 2011, I have been elk hunting with my dad every year. Every fall, that time is something that I wait anxiously for. Every year I bring home memories and stories to share about my hunting adventures with my boys who eagerly listen to every detail.
I am excited to build a similar legacy with my sons in Trail life. After each outing with men in the church we return with stories and memories my sons and I will never forget. Trail Life has been a blessing to our family and I would encourage any father with young boys to get involved.