Will McCarty and his father Britt worked together to begin the first Trail Life Troop in the state of Mississippi. Now six years later, a dream has come true. Will has become the first Freedom Rangeman in Trail Life Troop MS-0009, and a new legacy has begun.
In 2014, Britt McCarty had a dream. He realized the need for an outdoor program in his community where his son would engage with mentors and peers in real-world challenge and adventure...where men come together, connect with each other, and grow with their sons while serving their community. He spoke with his pastor, and gradually a team of men coalesced around the vision. Britt and his son Will became part of a team determined to begin a new Trail Life Troop in Meridian, Mississippi.
Will was only 13 years old when the Troop began. In starting something new with his dad, he learned to shoulder leadership responsibility early on. Weekly, he was responsible for leading portions of meetings and communicating with Troop members. Will learned quickly how to present ideas with confidence, plan events, and to trust God for results.
Starting the Troop was no easy process. Will and his dad planned and prayed regularly in those early days. They learned to act in faith and overcome adversity.
A great deal of time was spent planning with members of their team and meeting with members of their community in an effort to get the word out about about their Troop. Persistence and prayer paid off - the first interest meeting had more attendees than expected, and God provided men who were willing to lead Woodlands Trail and Navigator patrols. The church was able to donate a good supply of equipment, so the Troop was not initially burdened with raising funds to supply that need.
But building something worthwhile takes time, and the early weeks and months were not without setbacks. There were some weeks when only one or two boys would show up for the meeting. Yet, they forged ahead in faith. "Boys grow in character through experience," Will's dad explains. "And that is true for dad's too!" he laughs. "The experience of starting the Troop together taught us both valuable lessons."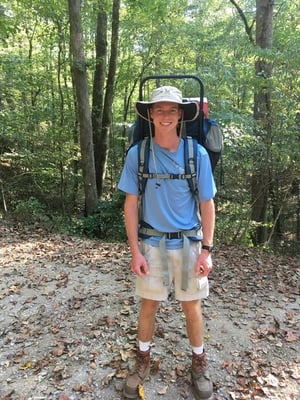 Looking back, Will fondly recalls countless memories of hiking, shooting, kayaking, fishing, biking, and visiting historical sites, and. He values the relationships formed while spending time around the campfire with his dad, other men who served as mentors, and some of his best friends. "Many of the most valuable lessons learned came during the most difficult experiences," Will explains. "I remember several really tough outings including a long backpacking trip in North Alabama, a cold-weather camping trip in the rain, and a fall trip when the Troop forgot to pack the skillet...experiences like that taught me to push through a trial, learn something new, and grow in courage...the life skills I've learned on the trail to earning The Freedom Award are incredible. The training has given me a sense of accomplishment and prepared me for life."
Attaining Freedom
Earning the Freedom Award requires Leadership, Character, and Commitment. To be a candidate, a Trailman must have demonstrated mastery of a significant skill set including 15 required and 10 elective Trail Badges, performed 20 hours of service each year, and proven himself as a leader among his peers. When these requirements have been met, a Trailman may begin the formal process of earning the Freedom Award.
To complete his Freedom Portfolio, Will had to remain active in his Troop, complete a Faith Building Activity, a Servant Leadership Project, and earn a major and two minors by completing four (4) approved Freedom Experiences. Will chose Civics, Christian Education, and Fitness from a list of options that also includes Agriculture, Aquatics, Communication and Performance, Emergency Services, Exploration, Mentoring, Science and Technology, Shooting Sports, Survival, and Trades.
For his Servant Leadership project, Will chose a cause that was close to his heart. A tennis lover who spent years at the Northeast Tennis Center, Will assembled a team to install new benches, resurface water fountains and trash cans, and paint over 500 linear feet of rails at the complex he loved.
He worked closely with Highland Baptist Church and Meridian City Parks & Recreation. He coordinated with fellow Troop members, friends, and local businesses to plan and execute the renovation. A local Lowe's home center donated concrete, and Meridian Parks and Recreation donated paint. In total the project took six months and of planning and three months to implement.
After completion, Meridian Parks and Recreation Director Trent Posey said in a statement:
I would like to personally thank Will McCarty, for the volunteer services provided at the Northeast Tennis Center. We, The City of Meridian, are extremely grateful for people like Will. He had used the facility to put in countless hours of training over the years. The tennis center became a valuable resource in his effort to perfect his craft. Will recognized this and wanted to show his appreciation for the many years of use. Will did something many never consider and that's why he's such a special individual. Will took it upon himself to give back to a facility and to a community that served him in his youth. The generosity is very much appreciated.
Through the planning and execution of his project, Will matured in leadership and learned to deal with setbacks. For example, in the middle of the project, one of the team members was unable to complete a major commitment. It proved a great lesson in navigating problems, communicating effectively, following up on tasks, and adapting as necessary to complete the project well and on time.

Reflecting on the experience Will says, "By the time you attain the Freedom Award, you've worked hard for years. It's not easy—but it's worth it. Having been a part of Trail Life really helped me with the project. Trail Life taught me how to lead younger boys in an effective way. It taught me to keep going when things are hard and uncomfortable. I am also thankful to Trail Life for helping me to become a much better leader."
In the fall, Will plans to enroll at Mississippi College where he will major in Administration of Justice and play on the tennis team.
Read More: The Meridian Star featured Britt (dad) and Will (son) in an article titled Meridian teen earns Trail Life USA Freedom Award.