May 30, 1916
President Woodrow Wilson
A Proclamation
My Fellow Countrymen:Many circumstances have recently conspired to turn our thoughts to a critical examination of the conditions of our national life, of the influences which have seemed to threaten to divide us in interest and sympathy, of forces within and forces without that seemed likely to draw us away from the happy traditions of united purpose and action of which we have been so proud, It has therefore seemed to me fitting that I should call your attention to the approach of the anniversary of the day upon which the flag of the United States was adopted by the Congress as the emblem of the Union, and to suggest to you that it should this year and in the years to come be given special significance as a day of renewal and reminder, a day upon which we should direct our minds with a special desire of renewal to thoughts of the ideals and principles of which we have sought to make our great Government the embodiment.
I therefore suggest and request that throughout the nation and if possible in every community the fourteenth day of June be observed as FLAG DAY with special patriotic exercises, at which means shall be taken to give significant expression to our thoughtful love of America, our comprehension of the great mission of liberty and justice to which we have devoted ourselves as a people, our pride in the history and our enthusiasm for the political program of the nation, our determination to make it greater and purer with each generation, and our resolution to demonstrate to all the world its, vital union in sentiment and purpose, accepting only those as true compatriots who feel as we do the compulsion of this supreme allegiance. Let us on that day rededicate ourselves to the nation, "one and inseparable" from which every thought that is not worthy of our fathers' first vows in independence, liberty, and right shall be excluded and in which we shall stand with united hearts, for an America which no man can corrupt, no influence draw away from its ideals, no force divide against itself,-a nation signally distinguished among all the nations of mankind for its clear, individual conception alike of its duties and its privileges, its obligations and its rights.
In Witness Whereof, I have hereunto set my hand and caused the seal of the United States to be affixed.
Done at the City of Washington this thirtieth day of May, in the year of our Lord one thousand nine hundred and sixteen, and of the independence of the United States of America the one hundred and fortieth.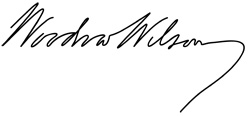 WOODROW WILSON
By the President:
ROBERT Lansing

Secretary of State
---
The Worldview of Woodrow Wilson
Quotes:
"America was born a Christian nation – America was born to exemplify that devotion to the elements of righteousness which are derived from the revelations of Holy Scripture. " -- "The Bible and Progress," May 7, 1911.
"[The Bible is] a book which reveals men unto themselves, not as creatures in bondage, not as men under human authority, not as those bidden to take counsel and command of any human source. It reveals every man to himself as a distinct moral agent, responsible not to men, not even to those men whom he has put over him in authority, but responsible through his own conscience to his Lord and Maker. Whenever a man sees this vision he stands up a free man, whatever may be the government under which he lives, if he sees beyond the circumstances of his own life." -- speech on the tercentenary of the King James Bible, Denver, 7 May 1911
"My life would not be worth living if it were not for the driving power of religion, for faith, pure and simple. I have seen all my life the arguments against it without ever having been moved by them . . . never for a moment have I had one doubt about my religious beliefs. There are people who believe only so far as they understand -- that seems to me presumptuous and sets their understanding as the standard of the universe . . . I am sorry for such people." -- letter to Nancy Toy, 1915
Article: President Woodrow Wilson's Religious Ideals - Mr. Wilson was one of the most devout of our Presidents. His religion was marked by constant and regular prayer, not a formality but a sincere outpouring of his spirit and supplication for divine guidance. He read his Bible consistently every day, meditated on what he read, and sought to put into action the teachings of the Scripture. He was an habitual church attendant and an Elder in the Presbyterian Church. Even in Paris he often attended church though the pressure was so great upon him that he was forced to violate his usual rule and work upon Sundays either in his office or in conference. His power of criticism, so keen in literature, political science and practical politics, was, to use one of his favorite words, "adjourned" during a religious service. He would listen attentively to the preacher as one seeking guidance. His Washington pastor, the Reverend Doctor James H. Taylor, in a memorial sermon on President Wilson, said:"He gave the most careful attention to the reading of the Scripture and to the preaching of the sermon. In fact, it was often quite disconcerting to a visiting minister to discover suddenly that the sermon was being listened to with such concentrated attention."