This Independence Day, Trailmen and families from Troop IL-0412 woke early to gather at a local cemetery. Today's event had received special attention and boys and families arrived at 9 AM to begin this Independence Day with a special commemoration and blessing.
After a brief explanation and passing out of flags, boys and mentors paired off and together they walked through the cemetery placing flags at the gravestones of veterans, thanking the Lord for our freedoms, and praying for each of the Gold Star Families who had sacrificed so much for our country.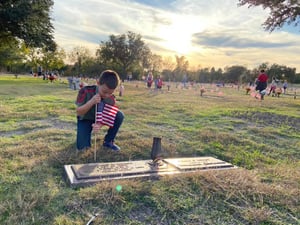 The time spent at the cemetery made an impact on the Trailmen. For weeks the boys had been planning to honor veterans at the 4th of July Parade. Identifying the gravestones and spending time in prayer for the families helped the boys understand the extent of the sacrifice veterans make for our freedoms. The boys left the cemetery excited about their plans for the parade two days later.
At 9:45 AM on July 6th, the boys met at the church and walked over to the parade route together. Upon arrival, the boys finished decorating the float, got flags in hand and prepared the Troop banner. At a pre-parade meeting, the boys prayed, made final preparations, and reviewed the plan for honoring veterans along the route. The flags were to be handed out freely to many by the Trailmen, but boys and adults were to look for veterans. Once identified by a hat, shirt, or other means, the Troop Chaplain would make contact, invite a couple of boys to exit the parade route, learn about the service of the veteran, hand them a flag, salute, and say "thank you for your service."
As boys talked with each veteran, learning how and where they served, many boys experienced overwhelming emotions and were gripped by a deep sense of gratitude. Talks of Vietnam, Korea, Iraq, Afganistan, and other wars quickly led to an emotional realization of the weight these men and women carried on our behalf. Boys began to understand courage, determination, and sacrifice – that with freedom comes responsibility – and that it is a great honor to live in the land of the free and the home of the brave.
Richard Haritan, the Chaplain for Troop IL-0412 writes, "We honor that which deserves honor. Our U.S. military has earned our honor through over 240 years of defending freedom and protecting our great nation's citizenry."
The actions of that day weren't done with fanfare. Many viewers didn't even realize what was going on. However, honoring these brave men and women was an incredible, unforgettable experience that left an indelible mark on boys and adults alike.