On Saturday, Oct. 13, Josiah Meier, son of Thomas and Lori Meier, of Osage, Iowa, was awarded Trail Life USA's highest honor – the Freedom Award – at a ceremony held at the Cedar Springs Camp and Retreat Center. Founded in 2013, Trail Life USA is a Christ-Centered, Boy-Focused ministry that emphasizes service, develops leadership, and grows character through outdoor adventure.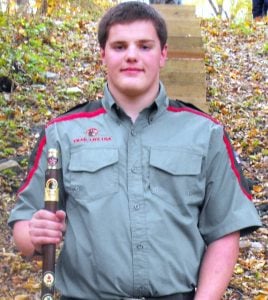 Trail Life is a family affair for the Meier family. They joined the Troop in Mason City in 2014, where Josiah's father presently serves as the Troopmaster and his mother is the Troop's Committee Chair.
The four-year journey to earn the Freedom Award required Meier to earn 25 Trail Badges, participate in two Major Freedom Experiences, two Minor Freedom Experiences, complete a Faith-Building Activity, and plan and execute a Servant Leadership Project. Two of Meier's favorite badges were Air Soft and Survival Skills. His main project "took over a hundred hours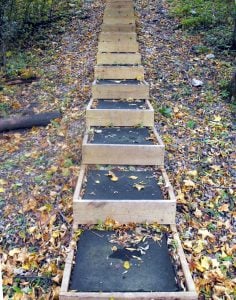 to complete" and involved replacing a flight of stairs at Cedar Springs Camp.
Mark Jenkins, the Executive Director of Cedar Springs Camp said, "The steps he replaced had created a safety issue. Upgrading them made it cleaner and hazard free." Meier continues, "The outdoor stairs had been made of old tires that were worn and wires were sticking out and cutting people's feet. I did most of the work of removing the tires and designed the new steps."
Servant leadership projects require a great deal of work. A Trailman must design the project, obtain the necessary approval, acquire materials, build a team, and lead the project to completion. Meier used GPS coordinates to find the bottom and the top of the hill, designed 28 box steps to match the grade of the hill, and then led a team of nine volunteers to assemble the steps, fill them with dirt and gravel, and cover the foundation he built with a rubber padding.