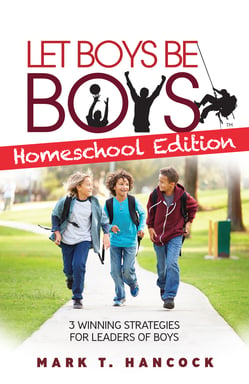 Biologically, boys and girls are different. And, let's face it…generally speaking, teaching girls is easier. Across the country, more and more parents are making the decision to homeschool. Parents are realizing virtual learning, additional screen time, and new school regulations are not conducive to their sons success. For too many boys, school feels like a game that is rigged against them.
The gifts of boyhood: raw energy, physicality, competition, and aggression present unique challenges. Additionally, boys verbal abilities and impulse control develop more slowly than their female counterparts. It is likely that this type of exuberance inspired Lewis Carroll to write, "I love all children, except for boys."
Unfortunately this sentiment reflects the feelings of many frustrated parents, teachers, and school administrators. Psychologist Dan Kindlon notes, "Boys…often by third grade, have already disengaged their energy from the task of learning, tuned out of school, and written it off as a place where they can't do anything right."
According to the National Center for Educational Statistics, boys are almost twice as likely as girls to receive special education, and the National Institute of Mental Health reports that boys are three times more likely to be diagnosed with ADHD. Academically, boys underperform girls at every level. Meanwhile, women earned more than 52 percent of doctoral degrees and more than 57 percent of master's degrees in 2016.
Diagnoses of ADHD are increasing steadily. Conduct that used to be considered typical boy behavior – running or climbing when it's not appropriate, or having a hard time waiting to talk or react – is now bulleted in lists of ADHD symptoms, as if boyhood is some sort of social disease that needs to be eradicated.
These factors, combined with cultural notions of "toxic masculinity" and a secular media that for decades has consistently presented fathers and husbands as buffoons has created a generation of young men that have come to be known as the "failure-to-launch generation."
Boys are starved of moral direction and ignored in terms of academic struggles. They have no platform for their own defense because they've already been judged deficient.
Many parents realize the problem and are attacking this issue head-on. Is it any surprise that homeschooling is on the rise? In a recent survey the top three reasons parents gave for homeschooling were: special needs, anxiety, and bullying. As leaders of boys in homeschools, churches, and youth organizations, we must recognize and affirm the unique strengths and challenges of boys. We are positioned to instill the principles and character traits that can prepare boys to become successful focused men.
But will we?
Ready for the challenge? Here are three strategies for training and equipping boys to thrive in your homeschool.