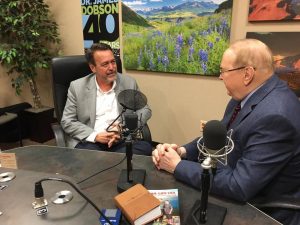 On Family Talk with Dr. James Dobson, Trail Life USA CEO Mark Hancock and Dr. James Dobson, spend two days discussing how to grow boys to become biblically bold, courageous men of character and conviction.

The fact is, boys and girls are different. We know this for many reasons. We also understand that boys are struggling in almost every area that's measurable. Discussions about toxic masculinity, a lack of fathers in the home, and an education system that favors a sit down, be still, do as you're told, repeat what I say learning style is leaving too many boys behind.
Bringing Up Boys
More than ever there is a need for a boy-focused program that celebrates the assertive, audacious, adventurous nature of boys. A program that engages men in making men, that builds on the strengths of a boy, that engages boys in a spirit of adventure, and through hands-on experience teaches faith, character, and stewardship. A program that Lets Boys be Boys!
Let Boys Be Boys
We hope you will take a moment to click the links below to listen in on the discussion as Mark Hancock and Dr. James Dobson discuss the 5 Critical Needs of Boys:
Day One: "Tools of the Trail: Raising Adventurous Boys 1"
Day Two: "Tools of the Trail: The Path to Manhood 2"