"Suffering produces perseverance; perseverance, character; and character, hope."
- Romans 5:3-4
The weather on the mountain was brutal. The windchill was at four degrees below zero. Forty mile per hour winds hurled snow and ice pellets straight down the mountain. Whiteout conditions had set in. One climber after another passed us coming down the mountain saying it was impossible to continue. They were turning back.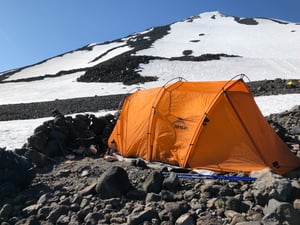 The day before our party of 22 boys and dads had made an 8 hour slog 3,500 feet up through the snowfields to set up a base camp and get us in position to summit on Sunday morning. The wind howled as the storm system blew in and the temperatures dropped keeping us all awake for most of the night. I honestly didn't know if anyone would be crazy enough to get out of bed when the 4:30 am wake up call went out on a morning like this. One by one boys started to appear wrapped up in every piece of clothing they brought.
The Ascent
We assembled, said a prayer, strapped on crampons, grabbed our axes, and began to ascend the 2,000 foot headwall of snow and ice. As we climbed, the weather worsened and clouds of blowing snow made it increasingly difficult to see anything beyond the climber directly in front of and behind us. We soon found ourselves alone with our climbing partners. Fatigue set in and each step became a struggle. We began questioning ourselves - "should we even be on this mountain?"
We had trained for 6 months for this climb - ascending thousands of floors on the stair machine at the gym, hiking miles and miles carrying packs around the steepest hills we could find, and running endless laps around our backyards. We had prepared for this challenge, but this was far more than we signed up for.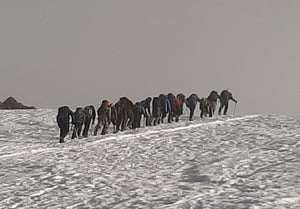 Minutes turned to hours and the snow fell harder...ice began to build up on the boy's faces as we passed through the 11,000 foot mark. One by one, boys started to drop to their knees in the snow, too tired to go higher - gasping for air, grasping for strength, longing for warmth, and praying for endurance to finish the climb.
A month earlier Sam had asked me if I thought any 15 year old with type-one diabetes had ever summited Mount Adams. I told him it's possible he might be the first. Little did I know he was a couple hundred feet above me struggling with frozen hands trying to administer an insulin shot with his dad at the most treacherous part of the headwall.
A Breaking Point
I'm pretty confident that this trip would have been impossible if God hadn't intervened. The day the Troop voted in favor of attempting a climb on Mount Adams a guy named Troy, who was training to be the regional high adventure coordinator, happened to be visiting our Troop. When he heard we were doing Adams he offered to help. He had already climbed Mount Adams 27 times and he showed up a few weeks later with a 3 page gear list and boxes of crampons, boots and ice axes.
As the time got closer, the excitement grew and more and more boys signed up. By the time we met at the trailhead, we had 22 dads and sons and a small army of support that Troy had rounded up to help with the climb. The group had grown so big we didn't have nearly enough gear. Troy reached out to an old friend from Climbers with Christ and he got a reply from Stan saying, "Jesus has all the gear you need." On the day of the climb, Stan showed up with a full support team, 4 season tents, crampons, ice axes, and all the extra gear the boys would need.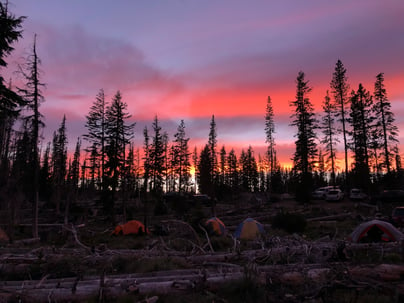 In the weeks leading up to the climb we had studied a verse in Romans 5 that talks about how suffering produces perseverance, perseverance produces character, and character leads to hope. That's exactly what was happening on that headwall for those 22 climbers...suffering...lots of it. Learning how to persevere - how to will yourself to take one more step, even when it hurts - how to become a young man that doesn't give up when life gets hard. This climb was a test of character. What do I do when I'm exhausted and I don't think I can make it to the top? I go one more step...then one more step...and wait for God to show up.
Divine Intervention
Our group was at a breaking point on that head wall. Our boys were beyond their limits...they had been on that face for 3 hours and the top was completely socked in by blowing snow….the climb was too much. Stan had been saying all along that our God was a God who parts the waters. At that moment, when our boys were ready to quit, the sky started to clear. The clouds of snow that had blocked our vision parted and the top of the false summit was visible. It was only 500 feet above us. Immediately, exhausted boys started pulling themselves up and taking steps again...the goal was in sight...this was really possible...God had parted the waters.
All along that climbing route, Jesus showed up that day:
For Sam, it was a climber named Ben who stayed with him on that headwall and helped him get the insulin
he needed and pushed with him all the way to the summit. When Sam was too weak to make the final steps, Ben took his pack from him and helped him make it to the top.

For Billy, it was a guy named Chris who met him at his high mark and escorted him safely back to base camp, giving up his own chance at the summit for the 7th time in a row.

Trent met Jesus when his crampon broke and another climber gave him the crampon off his own foot so he could go on.
All weekend this happened, guys from Climbers with Christ would stop to put moleskin on blisters, help set up tents, pump water, and come bounding down the mountain to carry packs for boys that were too exhausted to go on. It was a lesson of what self sacrifice looks like that I will never forget.
A Mountaintop Experience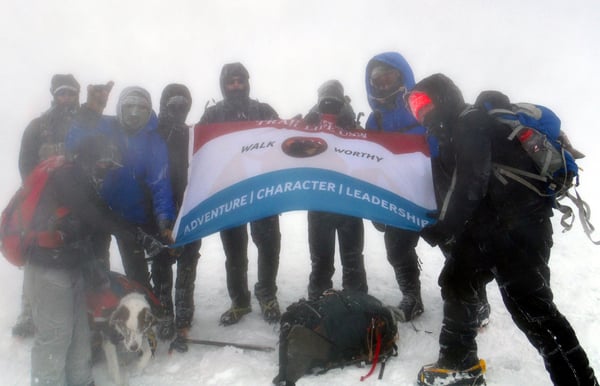 Throughout scripture God has met his people in the wilderness and on the mountain tops. After what we experienced, I'm convinced he still does that today. When our group of stragglers finally reached the summit we met a couple from Russia who had decided to turn back earlier in the day, but when they met our lead climbers pushing on they decided if these boys could do it, then they could do it too. They thanked us for the inspiration we provided and started passing out apples and snacks. Pretty soon everyone broke open their packs for a regular feast on the mountaintop complete with Twinkies for desert. When it was time to go, we said a prayer and sang a chorus of "How Great Thou Art" and headed back down the mountain.
When we got back to base camp I asked the group the question: "Was this the hardest thing you've ever done in your life?" Almost every boy in the group raised their hand and said "yes".
Was it miserable? Absolutely! Did they want to give up? For sure!. Was it worth it? Yes!
Why? The camaraderie was amazing, the views from base camp were incredible, glissading on your backside 2000 feet straight down was an adrenaline rush, but I think there was something deeper going on. An experience like this answers a question that every boy struggles with in becoming a man, "Do I have what it takes?" For most of us on that mountain that day, the answer was NO...on my own, I would have failed, but with the help of God and a band of mountaineering brothers, the answer was yes! I can hardly wait to see what God has in store for us on the mountain next time!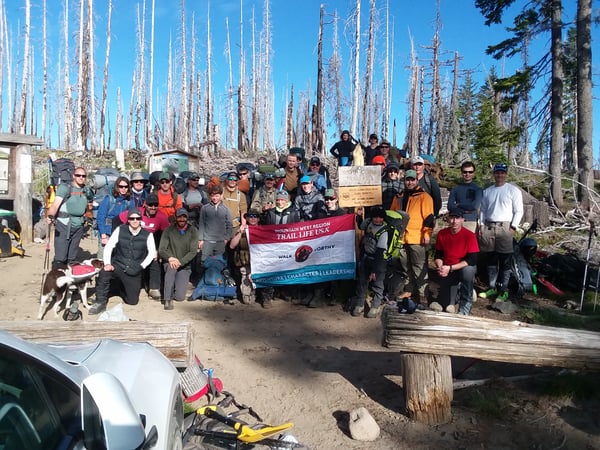 ---
Interested in planning and experiencing a Trail Life High Adventure trip? Trail Life equips churches to engage men to grow boys who become godly men of character. Get involved! Learn more about how to
Start a Troop
at your church or
Find a Troop
near you today!