On Peace Officer Memorial Day, Trailmen from Trail Life USA Troop TN-0101 in Clarksville, TN got word that the ceremony to honor local officers had been cancelled due to Coronavirus. Without any delay, the Troop chose to conduct a wreath-laying ceremony at the Clarksville Police Department's Protector Memorial to honor Police Officers in their local community.
The ceremony began with a solemn proclamation:
"Today we join together to honor our law enforcement on Peace Officer Memorial Day. We are here to celebrate the lives and sacrifice of so many on behalf of our community. This year celebrates the 58th Peace Officer Memorial Day memorializing some nearly 23,000 in the line of duty death since 1786 at the national memorial. This year another 307 names are added to the wall in DC. There are many other who have suffered illness and injury on the job as well. We commemorate the toll they have all paid. We must never forget the price they or their families paid on behalf of securing our communities."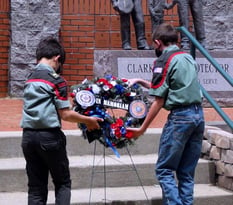 The boys then stood at attention while a wreath honoring officers that made the ultimate sacrifice from the Clarksville Police Department and the Montgomery County Sheriff's Office was place at the memorial.
After the placement, a prayer was lifted for the brave men and women of law enforcement and their families:
"Almighty God, whose great power and eternal wisdom sustain universe. We thank you for all the law enforcement who have given so much. Father in heaven please give them the strength, courage, and perseverance to endure the injustice, condemnation, danger, and physical abuse to which they are sometime subject. Holy Spirit, we recommend them to your loving care because their duty is dangerous. We are grateful to God that there are those who have answered the call and are willing to show no greater love than this. Provide peace and comfort to those who miss these guardians at home. Dear God grant these brave officers your almighty protection and unite them safely with their families after duty has ended. In Jesus holy name we pray, Amen"

Clarksville Police Chief Al Ansley met the young men afterward, thanked them, and gave them all departmental challenge coins.
The Clarksville Police Department said they appreciate the young men, their parents, and other Troop volunteers, for taking the time out of their day to help honor those who have fallen with such a great gesture.
Grace Baker at The Mighty 990 AM, Michael Patterson at ClarksvilleNow.com, and Trail Life USA staff contributed to this article.