John Obrey, a Dover High School student, has been a member of Trail Life USA Troop NH-0777 since 2014. Trail Life USA is a Church-Based, Christ-Centered, Boy-Focused mentoring program that uses outdoor adventure and community service to grow character and leadership skills in boys and young men. Recently John began planning his capstone Community Service project to earn Trail Life's highest honor – The Freedom Award.
The Freedom Award Servant Leadership Project, requires a Trailman to assemble a team, perform all the planning and fundraising necessary to prepare, and then lead his team in making the vision a reality. John's project included more than 10 volunteers, some of whom were John's friends and fellow Trailmen. Others were fellow cadets in the Junior Naval ROTC program at Dover High School.
Two years ago John became a volunteer at the Food Pantry. Being aware of its needs, it seemed logical that he plan his project there. He approached Stan Boduch, chair of the board of directors of the pantry and discussed what would be done. "We always wanted to refinish the floors," said Boduch, "and several other things." Those turned into an overall project including installing new flooring, painting, minor wall repair and organizing food storage. More than 100 man/woman hours were necessary to complete the project by April 24-25 in time to re-open the doors for food distribution to the community.
In completing the project John received many donations of supplies and money from the community and local businesses to obtain the items needed to do the project. At the completion of the project, he was able to present a check for more than $900 to the pantry — the balance of what was raised after costs for the improvements.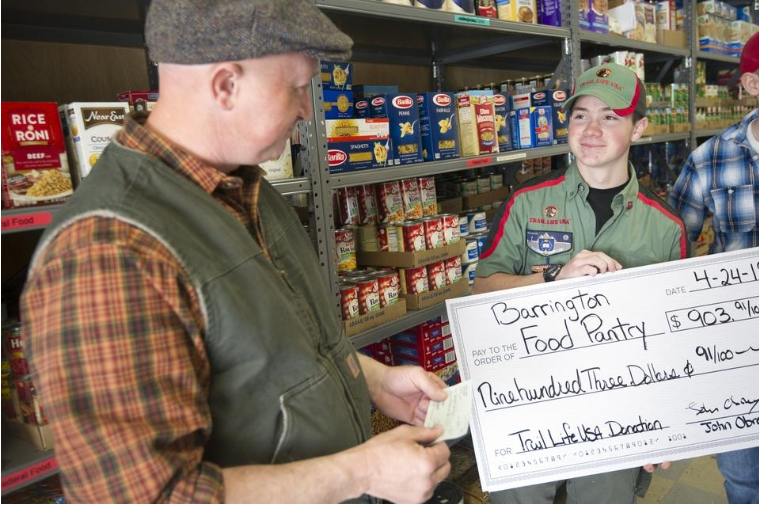 "It looks great!" Boduch said of the final result.
John plans on making the military his career after potentially attending a military academy.
Commander Tom Gamble, the Senior Naval Science Instructor at DHS, had high praise for John. "Has been and continues to be a shining star." He excels in "mental, moral and physical development, the three pillars of the NJROTC program."
Read the full story from www.fosters.com